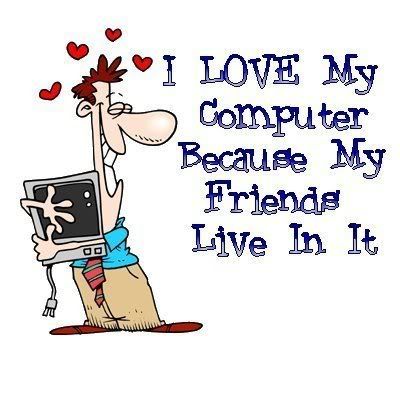 I'm pretty sure I've made my first bloggy friend. Her name is Jen, and her blog is called
Cheaper Than Therapy
. Pretty clever, eh? I think so. I know she thought long and hard about her blog title, and I think she made a great choice.
At some point, I noticed a general comment from a person that I didn't recognize. I followed her name to her blog, read it, and it was like reading my own blog. I guess that's how you make bloggy friends, right? I don't really know since I'm new to this...
She's funny, sarcastic, and entertaining. Definitely my kind of woman. I enjoy reading her goods. She even
tagged my blog
on the movie quote game. I went investigating and I found that Jen is linked through my online friend,
Toni
. God bless you, Toni! So is this a case of a "friend of a friend"? Or is this just how a good blog runs? Whatever, because I am totally enjoying the excellent reading- however it works!